video swarm – a viewing event featuring videos of the bildwechsel archives.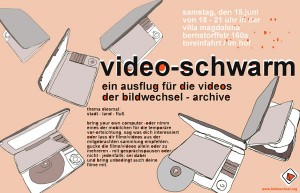 bring your own computer or use one of the portable dvd players.
tell us what you are interested in or let us pick a film for you from the collection.
watch the film by yourself or with others. discuss what you see or don't. in any case – come, watch and bring your own films to share and put in our archives.
date: june 15th, 2013
beginning: 6pm to 9pm
venue: villa magdalena k, bernstorffstr. 160 a, hamburg
June 11, 2013 • Posted in: event