an installation/exhibition of archives from Bildwechsel, in co-operation with WESTWERK.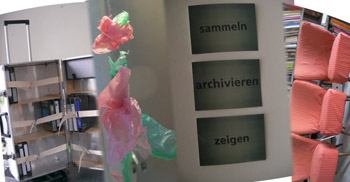 Bildwechsel is an umbrella organisation for women+ and their representation in media, culture and art.
It houses international archives and collections.
collecting/archiving/presenting – this is our slogan! for over 28 years we have worked as an 'active' artists archive.
Bildwechsel is a location, as such it creates a framework for artists, activists and researchers, for meetings and collective thinking and acting – locally, nationally and internationally.
The exhibition "hanging out with archives" invites you to dive-in and take a closer look at the archives and archival material we have, and the way we work as an active archive. From the traditional paper-file to the online video museum, the kunstlerinnenarchiv to the feminale collection, the documentations of events, workshops, trips, visits and tours – the visitor can explore the way Bildwechsel works as an active, engaged and developing collection.
look! archives at work!
opening: Friday, 7th of September, 2007 – 7pm
exhibition duration: 8th of September – 16th of September
opening hours: Tuesday – Friday 4pm – 7pm, Saturday noon – 3pm, Sunday 3pm – 5pm
venue: Westwerk, Admiralitätstr. 74, 20459 Hamburg (westwerk.org)
August 15, 2007 • Posted in: event